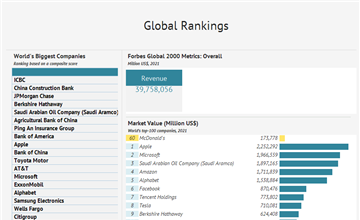 The Forbes Global 2000 is an annual ranking of the world's top 2000 public companies published by Forbes magazine since 2003. The companies are ranked according to four basic metrics: profit, sales, assets and market value.
In total, the world's 2000 biggest public companies account for $162 trillion in assets, $39 trillion in revenues, $3 trillion in profits and $48 trillion in market value, according to the 2015 list.

The world's largest company by market value is still Apple, however the technology industry juggernaut from Cupertino is not the leader by the overall score.