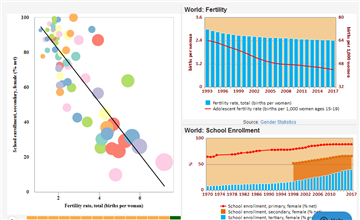 During last 3 decades fertility rate decreased from 3.7 to 2.5 children per woman. Why do woman give less births today compared to 90s and 80s?
Actually there are many different reasons. And one of them is education. The more women are engaged in education the less is the fertility rate.
The highest fertility rates now are in African countries, where only about 20% of women get secondary education. On the contrary, in developed countries, where school enrollment rate among women is almost 100%, fertility rate is below 2 children per woman.