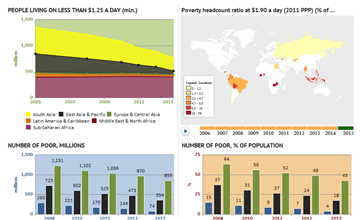 According to The World Bank
Poverty and Inequality Statistics
, more than 1200 million people live on less than $1.25 a day (on a PPP basis). It means that every fifth person in the world lives in extreme poverty.
Dem. Rep. Congo is the country with the largest poverty level in the world with 87% of people living below $1.25 a day.
Explore "Poverty in the World" dashboard and check poverty statistics for different countries in the world.
Poverty headcount ratio, at $1.25 a day (%)