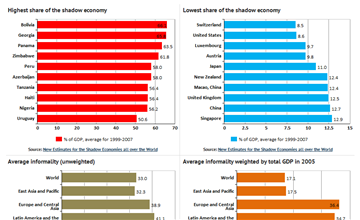 Official statistics for any country don't measure the full set of economic activities. What is registered and fully transparent to the authorities of each country is reported by official statistics. Surprisingly, the unreported part of economic activities for some countries is noticeable in size.
The so called "the shadow economy" is an economic activity that is "deliberately concealed from public authorities to avoid payment of income, value added or other taxes; to avoid payment of social security contributions; having to meet certain legal labour market standards, such as minimum wages, maximum working hours, safety standards, etc; and complying with certain administrative procedures, such as completing statistical questionnaires or administrative forms".
Weighted average share of the shadow economy is estimated to represent about 17% of the official world GDP. In such countries as Bolivia, Georgia, Panama and Zimbabwe the size of the shadow economy in 1999-2007 was higher than 60% of official GDP figures. The smallest size of the shadow economy was observed in the United Kingdom, United States, Luxemburg, Austria and Japan.
| | |
| --- | --- |
| Highest share of the shadow economy | Lowest share of the shadow economy |
| | |