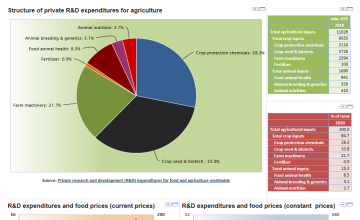 Growing world population, global food demand and the lack of extensive factors of production push food and agriculture producers to find a new ways to increase output.
According to USDA, private agriculture research and development (R&D) expenditures, increased from $6.9 billions in 2000 to $11 billions in 2010. R&D expenditures for crop seed & biotechnology, crop protection chemicals and farm machinery account for about 85% of total private R&D expenditures in the world.
Curios to check your knowledge of agriculture industry? Try our interactive
Agriculture 101 Quiz
now.
Structure of private R&D expenditures for agriculture