Today's post is a bit unusual because we are going to use guest visualization on our blog the first time ever. It comes from one of our enthusiastic users who chose a name Carpe Facto for himself. You could find a lot of excellent data & visualization work at his page at Knoema:
Data Factoid of the day
. It's a pleasure to present one of his pages today.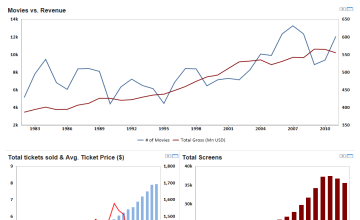 Movies generate income from several revenue streams including public exhibition in theaters, home video, television broadcast rights and merchandising. We have compiled data and visualizations showing trends in the movie industry in last 20 years.
This data is limited to movies in theaters. Some interesting observations are:
Over the years, this industry has always seen growth in revenues.
Last 10 years the ticket prices have almost gone up 60%
20% less no. of ticket sales have been recorded since 2002, but the revenues have increased due to increased prices.