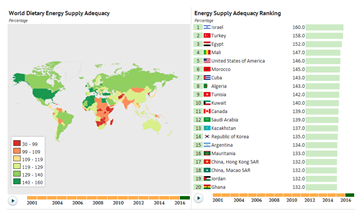 The Global Food Security Index, calculated by the Economist Intelligence Unit, is a composite assessment of food affordability, availability and quality across countries.
According to "The Global Food Security Index 2012" report "wealthy nations, with little surprise, perform best in the index: the US, Denmark and France hold the top three spots, followed closely by a number of northern European and Australasian countries.
High incomes, low spending on food relative to other outlays, and significant investment in agricultural research and development (R&D) put these countries at the top of the rankings. Sub-Saharan African countries are the most food insecure. Burundi, Chad and the Democratic Republic of Congo (DRC) take the bottom three spots. Each of these countries has done little to enable food security; they do not even have enough food available to meet the daily caloric needs of everyone in the country. In the DRC, the national food supply amounts to 1,605 calories per person per day—43% below the recommended level for adults."