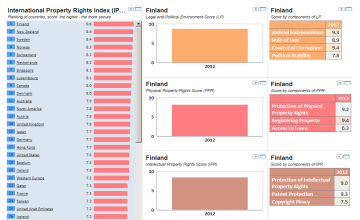 After Mohamed Bouazizi, Tunisian street vendor, committed self immolation because police expropriated his merchant property worthed $225 and, at the same time, his dreams that was above the price, property rights issue has become keenly discussed question throughout the world. The Arab Spring, the movement that emerged right after this incident, made it clear that freedom and secure property rights are inseparably connected with each other.
In order to make it possible to defend both physical and intellectual property rights, the Property Rights Alliance developed an instrument allowing comparison between the nations by relative strengths of property rights they provide for their citizens. This instrument, the International Property Rights Index, is published since 2007 helping policymakers to make better decisions.
The Index comprises 130 countries, comparing them by three core variables, that affect the resulting index, namely country's legal and political environment, recognition and enforcement of physical and intellectual property rights.