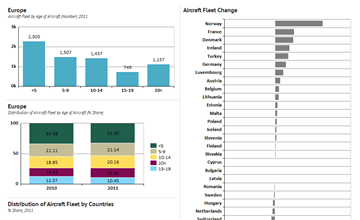 As of 2011, Germany is the country with the second largest aircraft fleet in Europe and, at the same time, the oldest one: 20% of its aircraft is more than 20 years old and this share is growing: compared to previous year the share of old aircraft increased by 3% from 17% in 2010. Concerning new aircraft, its number in Germany increased over 2011 as well, but to the much lesser extent.
The same cannot be said about Turkey which is the leading country in building up new aircraft fleet: accounting for 8% of European new aircraft Turkey gained its number by 18 in 2011, becoming the top country by new aircraft growth.
On the whole, European aircraft fleet can be positively characterized as constantly upgrading: aircraft aged less than 5 years constitutes the biggest part of the total aircraft fleet.
View full dashboard