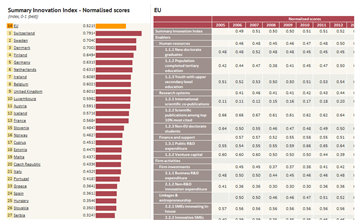 Innovation Union Scoreboard (IUS) Index assesses 27 European countries on how do they perform in innovation sphere and its subdivisions.
By monitoring innovation progress across the EU27 member countries, as well as Iceland, Croatia, Norway, Serbia, Switzerland, Turkey and the Former Yugoslav Republic of Macedonia IUS attempts to build strong base to policy discussions and decisions at EU and national level. Measurement framework of IUS embraces in total 25 indicators serving as proxies for 8 innovation dimensions grouped into 3 pillars.
Enablers pillar captures the main factors of innovation performance which are external to the company and cover three innovation dimensions: Human resources, Open, excellent and attractive research systems as well as Finance and support. Firm activities pillar captures the firm-level innovation efforts, grouped into the following innovation dimensions: Firm investments, Linkages & entrepreneurship and Intellectual assets. Outputs pillar covers the results of firms' innovation efforts in two innovation dimensions: Innovators and Economic effects.
IUS is one of the tools aimed at measuring of knowledge resources (or intellectual capital), which gain importance in the today's economy, across different countries. The other popular indices include
Global Competitiveness Index
,
Knowledge Economy Index
,
Global Innovation Index
.
View full dashboard