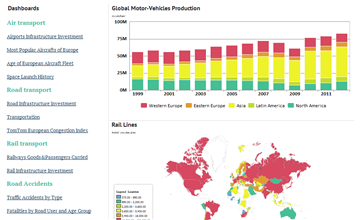 As stated in the ITF Transport Outlook 2013, published by International Transport Forum, at the current stage of global economic development value chains based on reliable and relatively low-cost transport networks are key to sustainable economic growth.
That is why, it could be said, that transportation contributes to economic growth, first of all, by boosting inbound and international trade flows through roads, railways, air and marine routes.
Moreover, transportation enhances human mobility by way of private and public passenger transport as well as transport infrastructure making it more easily for people to communicate with each other. Nevertheless, transport exploitation is in part responsible for air pollution, as it causes significant CO2 and greenhouse gases emissions in the atmosphere, which in the end lead to climate change. For this reason, the major challenge for policymakers attempting to develop strategic transportation plans is to trade-off between benefits and drawbacks of transport evolution.
Thus, for instance, rapid urban sprawl coupled with growth of ageing population on the one side and the development of public transport on the other side could well help to reduce CO2 emissions by reducing number of vehicle-kilometers traveled by private vehicles at the same time not hampering overall mobility of the passengers. Such long-term strategic planning is only possible if there are evidence-based insights on transport development which, in turn, are based on reliable statistics, analysis and research. Here we provide up-to-date statistics and visualizations ready for analysis on broad variety of transport-related topics from acknowledged sources.
View full dashboard