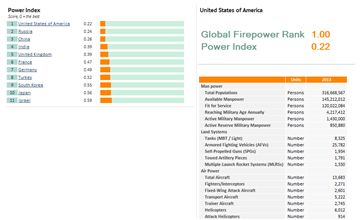 Power Index, assessed by the
Global Firepower (GFP)
for 106 world countries, allows for broad comparative cross-country analysis of relative military strengths.
The overall score (where 0 represents the perfect value, which is actually unachievable) is calculated on the basis of 43 indicators aggregated into 8 pillars of war-making capabilities (except nuclear potential), namely: man power, land systems, air power, naval power, resources (petroleum) as well as logistical, financial and geographic factors. Indicators used in the calculation of the resulting index are taken from the official sources if publicly available or estimated otherwise.
It should be noted, that Power Index, not endorsed by any governing or military organizations, is created solely for historical and entertainment purposes.
View full dashboard