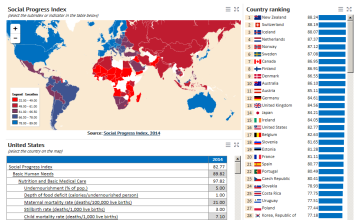 The Social Progress Index is the result of a two-year process guided by a stellar team of experts which includes, among the others, renowned economists Hernando de Soto and Michael Porter and the president of The Rockefeller Foundation Dr. Judith Rodin. The Index synthesizes a huge body of research to identify the dimensions of performance of societies and measure the social progress comprehensively and rigorously.

The Index has been structured around 12 components and 54 distinct indicators consolidated into three dimensions of Social Progress: Basic Human Needs, Foundations of Wellbeing, and Opportunity. The first dimension, Basic Human Needs, assesses how well a country provides for its people's essential needs by measuring whether people have enough food and are receiving basic medical care, if they have access to safe drinking water, if they have access to adequate housing with basic utilities, and if they are safe and secure.

Foundations of Wellbeing measures whether a population has access to basic education, ideas and information from both inside and outside their own country, and if they have more than basic healthcare and can live healthy lives. This dimension also measures a country's protection of air, water, and land, resources critical for current and future wellbeing.
The final dimension, Opportunity, measures the degree to which a country's population is free of restrictions on its rights and its people are able to make their own personal decisions, and whether prejudices or hostilities within a society prohibit individuals from reaching their potential. This dimension also includes the degree to which advanced education is accessible to all those in a country who wish to further their knowledge and skills.