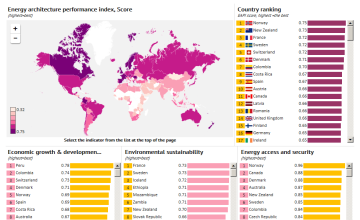 During the three-year period ending 2014, the World Economic Forum has been working on the New Energy Architecture Initiative to deeper understand the changes underway in the global energy system, and how they could be managed to enable an effective transition. A core pillar of this work was the development of The Global Energy Architecture Performance Index.
The EAPI employs a set of indicators to assess and rank energy architectures of 124 countries. The indicators highlight the performance of each country across key dimensions of the "energy triangle", measuring the extent to which a country's energy architecture adds or detracts from the economy, the environmental impact of energy supply and consumption and how secure, accessible and diversified the energy supply is.
Using the EAPI can help governments and other decision makers along the energy value chain to identify and prioritize areas for improvement. By using consistent data from reliable sources, the EAPI provides a transparent and easily compared set of measures, which can help to track progress and open new perspectives on the specific challenges faced by every country in each region.
View full dashboard