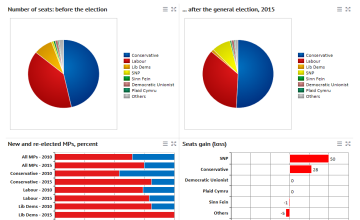 As a result of the surprising UK parliamentary elections, the Conservative Party has got a majority of 330 seats in the new UK Parliament. The Labour Party and the Liberal Democrats have lost much more seats than it had been expected according to the pre-election polls. For the Liberal Democrats it was the absolute defeat: they've lost 48 of 56 parliamentary seats.
According to the report by The Smith Institute the average age of the Member of Parliament (MP) following the election has risen to 51.2 years - the highest level in the past years. Only 15% of newly elected and re-elected MPs are under 40 years old (5% less than in 2010). The gender balance continues to improve. In 1987 women made up only 6% of all MPs, whereas in the previous parliament their share improved to 22% and in the newly elected parliament it increased to 29%.
A quarter of all MPs have an occupational background, highlighting the professionalisation of politics. The occupational background of MPs continues to be ever more biased toward business and the 'metropolitan professions', particularly finance, law, public affairs, and politics.
View full dashboard