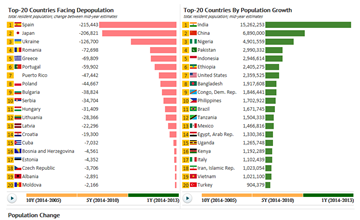 In 2014, the world population reached 7.21 billion people. However, some countries are facing depopulation. Besides Japan, these are mainly Central & Eastern European highly indebted states. Hard economic conditions, caused by austerity policy, lack of growth and high unemployment are forcing people to move to other countries in search for better job. Only during 2013-2014 (July to July) Spain have lost about 215 thousands of residents, Romania 73 thousands, Greece - 70 thousands, Ukraine 126 thousands, Portugal - about 60 thousands.
It seems that the one who is benefiting from this process of labour force migration the most - is the Germany. Since 2005 Germany had a very large population decrease: about 1,6 mln., the second largest single-country depopulation in the world for the past 10 years by the absolute amount. But since 2011 due to influx of work force from the European "periphery", this trend has broken. In 2014 Germany got total increase of about 244 thousands of people.
Top countries by the overall population growth are still China and India, but the most rapidly growing countries in relative terms are rich Middle-Eastern oil exporters. In the past 10 years the population of Qatar and the United Arab Emirates more than doubled; population of Oman, Bahrain and Kuwait has grown by more than 50%. On other hand, population of low-income African countries, such as Niger, Uganda, Zambia, Zimbabwe and others, grows rapidly too. Today nearly 1 billion of people are live in Sub-Saharan Africa (that's almost two times more than in the whole European Union). In summary, 692 million of people are live in heavily indebted poor countries (HIPC). This number represents 9.6% of total world population (compare this to 5.4% in 1960).