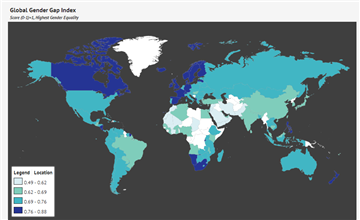 Gender inequality is still an acute problem in the modern world. It arises from differences in social, political and civil rights between men and women. This problem has existed since ancient times and remains urgent to the present. Nowadays fighters for women's rights has achieved notable progress. In many countries the differences in rights between men and women have become less noticeable. However, in some regions the women are still highly discriminated against.
The presence and magnitude of gender inequality is evaluated by measuring the representation of men and of women in a range of roles. A number of international comparative gender equality indices have been prepared and these offer a way to compare the level of gender equality in different countries.
Through the Global Gender Gap Report 2014, the World Economic Forum measures the notability of gender-based disparities and tracks their progress over time. It is not a secret, that there is no a single measure, which can capture the complete situation of gender inequality, thus the Global Gender Gap Index evaluates the relative gaps between women and men across four key areas: Health, Education, Economy and Politics.