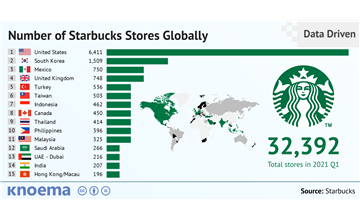 Today Starbucks is the largest coffeehouse company in the world, with 23,571 retail locations as of the first quarter of 2016. Starbucks was founded in 1971 in Seattle, Washington, and incorporated on November 4, 1985 to become the publicly traded Starbucks Corporation. Based on the company's positive, sustained operating results, it is ranked among Forbes' top-500 world's biggest public companies. As of 2015,
Starbucks' profit
was $2.5 billion and it had a market value of $70.9 billion. While Starbucks initially focused on the domestic US market, in 1966 the company opened its first stores outside the US. Since then, Starbucks' international footprint has expanded to 10,918 stores located in three main markets: the Americas, which includes Canada, Latin America, and the US; China and Asia Pacific (CAP); and Middle East and Africa (EMEA).
The domestic market still represents more than half of all Starbucks stores; California, with 1,863 locations, has more stores than any other state.
Starbucks operates two types of stores: company-operated and licensed. Currently, the store count is almost equally distributed between these two types - 52 percent of stores are company-operated and the other 48 percent are licensed - even under continuous expansion. During the first quarter of 2016, Starbucks launched 528 new stores, including the the first stores in Cambodia and Kazakhstan. The company's growth is bolstered by low turnover of its stores. Only 443 Starbucks stores have closed throughout the company's history: 240 stores in 2009, the year of global financial crisis; 42, in 2010; and 161 in 2011.
View full dashboard